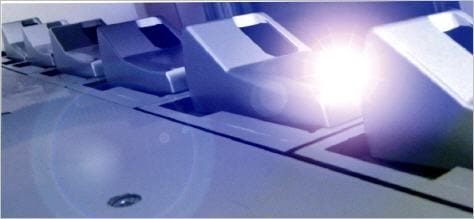 Ihr Titel geht hier
Your content goes here. Edit or remove this text inline or in the module Content settings. You can also style every aspect of this content in the module Design settings and even apply custom CSS to this text in the module Advanced settings.
Robotik-Automation,
voll automatisierte Laserbeschriftung zur rationellen Kennzeichnung von Serienbauteilen. Die Anlage ist zur Fertigung von wiederhol.-, mittel.- bis groß.- Serien Produktion geeignet. Die im eigenen Haus entwickelte Innovation,
vereinzelt das Gut
fährt Teile voll automatisch in die Anlage
Erfasst die Form und Lage des Bauteil und beschriftet Maß genau.
und fördert Teile aus der Maschine
Das System ist in der Lage bei schwierigen Lichtverhältnissen, wenig Kontrast (z.B. matt schwarz), glänzend.- oder reflektierende Flächen zu scannen. Die ausgereifte Technik garantiert ein hohes Maß an Verfügbarkeit. Der Werkzeugbau erfolgt im eigenen Haus.
Robotic Automation,
fully automated laser marking for the rational identification of serial components. The plant is suitable for the production of repetitive, medium to large-scale production. The innovation developed in-house,
isolated the estate
Moves parts fully automatically into the system
Captures the shape and position of the component and accurately labels the dimension.
and delivers parts from the machine
The system is capable of scanning in low light conditions, low contrast (e.g., matte black), glossy or reflective surfaces. The sophisticated technology guarantees a high degree of availability. The toolmaking takes place in-house.
Robotique Automation,
Marquage laser entièrement automatisé pour l'identification rationnelle des composants en série. L'usine convient à la production de productions répétitives de moyenne à grande échelle. L'innovation développée en interne,
isolé le domaine
Insère automatiquement les pièces dans le système
Capture la forme et la position du composant et étiquette avec précision la dimension.
et livre des pièces de la machine
Le système est capable de numériser dans des conditions de faible luminosité, de faible contraste (par exemple, noir mat), de surfaces brillantes ou réfléchissantes. La technologie sophistiquée garantit une grande disponibilité. La fabrication de l'outil se fait en interne.
Robotic Automation,
marcatura laser completamente automatizzata per l'identificazione razionale dei componenti seriali. L'impianto è adatto per la produzione di produzioni ripetitive, di medie e grandi dimensioni. L'innovazione sviluppata internamente,
ha isolato la proprietà
Sposta le parti in modo completamente automatico nel sistema
Cattura la forma e la posizione del componente ed etichetta con precisione la dimensione.
e consegna parti dalla macchina
Il sistema è in grado di scansionare in condizioni di scarsa luminosità, basso contrasto (ad es. Nero opaco), superfici lucide o riflettenti. La sofisticata tecnologia garantisce un alto grado di disponibilità. La realizzazione degli utensili avviene internamente.
Robotic Automation,
volledig geautomatiseerde lasermarkering voor de rationele identificatie van seriële componenten. De plant is geschikt voor de productie van repetitieve, middelgrote tot grootschalige productie. De in eigen huis ontwikkelde innovatie,
isoleerde het landgoed
Verplaatst onderdelen volledig automatisch in het systeem
Legt de vorm en positie van de component vast en labelt de dimensie nauwkeurig.
en levert onderdelen van de machine
Het systeem kan scannen bij weinig licht, weinig contrast (bijv. Matzwart), glanzende of reflecterende oppervlakken. De geavanceerde technologie garandeert een hoge beschikbaarheid. De toolmaking vindt plaats in eigen huis.