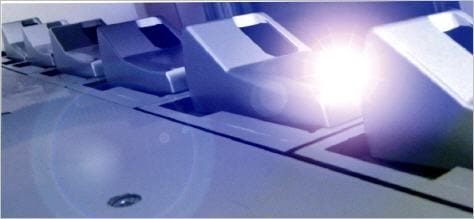 Ihr Titel geht hier
Your content goes here. Edit or remove this text inline or in the module Content settings. You can also style every aspect of this content in the module Design settings and even apply custom CSS to this text in the module Advanced settings.
Runde Bauteile oder Teile die auf mehreren Seiten eine Beschriftung erhalten, kann durch eine erweitere Achse das Werkstück gedreht und auf mehreren Seiten oder an der gesamten Mantelfläche lasergraviert werden. Skalen, Texte und Nummern lassen sich per Software an der exakt Umfangsfläche verteilen, simulieren und zur Maschine übertragen.
Round components or parts which are labeled on several pages, the workpiece can be rotated through an extended axis and laser-engraved on several sides or on the entire surface of the surface. Scales, texts and numbers can be distributed, simulated and transferred to the machine by means of software on the exact circumference surface.
Des composants ou des pièces rondes qui sont étiquetés sur plusieurs pages, la pièce peut être tournée à travers un axe étendu et gravé au laser sur plusieurs côtés ou sur toute la surface de la surface. Les échelles, les textes et les chiffres peuvent être distribués, simulés et transférés à la machine au moyen de logiciels sur la surface circonférentielle exacte.
Componenti o parti rotondi che sono etichettati in più pagine, il pezzo può essere ruotato attraverso un asse esteso e inciso laser su più lati o su tutta la superficie della superficie. Le scale, i testi ei numeri possono essere distribuiti, simulati e trasferiti alla macchina tramite software sulla superficie esatta della circonferenza.